Beersel Castle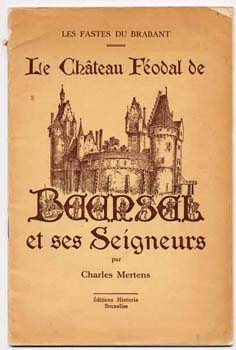 "Built in the 13th century, Beersel Castle was not designed for pleasure, but as a military structure designed to defend the territory of Brabant from the Hennuyers and Flemish, in accordance with the the provident policy of Henri I, Duke of Brabant, also known as 'Le Guerroyeur' (The War-Mongerer). Henri had also suggested building the castles at Zittert and Gaesbeek using the same design.
The powerful fortress at Beersel is favourably located in the lowlands of the river Senne, surrounded by water. Its mediaeval appearance is impressive to modern eyes. The rooms and walls of the castle featured crenellation, machicolations and loopholes; the archways were darkly lit by torches and the the oubliettes and torture room were sinister indeed."
Citation: Le Château Féodal de Beersel et ses Seigneurs, by Charles Mertens
The Castle of the Lords of Witthem has the sinister reputation of being haunted. Unusual phenomena take place in the area around the castle whenever a serious threat (war, conflict, epidemic, etc.) looms over the region or country.
The photo below was taken on Tuesday, 15 August 1939, by one of the members of the Ghost Hunters Club near the right wing of the castle.