Bram Stoker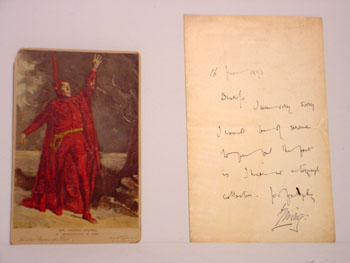 Abraham 'Bram' Stoker (1847-1912), Irish author and theatre enthusiast. A very sickly child for the first eight years of his life, Stoker spent his time listening to Irish legends told by his mother. Following a miraculous recovery, he entered Trinity College Dublin in 1864, where he was both a brilliant student and an accomplished athlete. Fascinated by theatre and literature, he later corresponded with American poet Walt Whitman and met authors such as Sheridan Le Fanu, Oscar Wilde (whose fiancée he married) and Florence Balcombe. But it was his meeting with English actor Henry Irving (1838-1905) that transformed his life. An unshakeable friendship would link him to the Irving for the rest of his days. He became artistic and financial director of the Lyceum Theatre in London. He started writing stories for children (Under the Sunset) and joined the highly secret Golden Dawn. In 1897, he published Dracula, the novel that secured his worldwide fame. While the vampire looks like a Romanian voivod, it was his patron, Henry Irving, who is caricatured in the novel. Had Bram Stoker become aware of what lay beneath the actor's face?
Other novels, short stories and writings followed (Lair of the White Worm, The Squaw, The Mystery of the Sea, Jewel of the Seven Stars, Personal Reminiscences of Henry Irving, etc.).
We at the Surnateum, however, are more interested in the confused, indistinct personality of Sir Henry Irving. The actor was known throughout his life as a tall, tyrannical, elegant and seductive man. In addition to a very rare second American edition of the novel, the Surnateum has acquired a letter written by Bram Stoker, signed by Irving, a photograph of the actor in his key role as Mephistopheles and the pipe he received as a gift at the work's premiere. This personal object has a troubling aura, after all Irving kept it in his mouth, very close to his teeth.