Copyright
All of the content on the 'Surnateum' site (text, scripts, icons, photographs and images) is the exclusive property of Mr Christian Chelman and/or their respective authors.
All rights of reproduction and representation of said content are reserved.
Logos, images and trademarks relating to other individuals, entities, products and scripts cited or used on the 'Surnateum' site are the property of their respective authors.
For more information on rights to use content from the 'Surnateum' site, please contact us.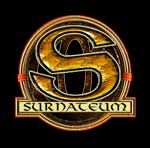 Right of reproduction
By accessing the 'Surnateum' site, the user agrees to the following conditions:
The user is entitled to private, non-collective and non-exclusive use of the site content.
This right allows the user to reproduce content for storage purposes and for the purpose of display on a single-workstation screen, and to reproduce a single example for backup purposes on all types of media or on paper print-out.
Any networking or rebroadcasting in any form whatsoever, even partial, is strictly prohibited.
This right is personal in nature and is reserved for the sole and non-collective use of the user.
This right is not transferable under any circumstances whatsoever.
Any other use is subject to the prior formal authorisation of Mr Christian Chelman.
Any infringement of these provisions shall render the offender and any responsible parties liable to civil and criminal proceedings.